You can't deny the power that the sharing economy has had, companies like Uber and Airbnb making people more and more comfortable with the idea of sharing services and facilities. We've seen this extend into living too, and our flagship co-living building The Collective Old Oak has proven there's an appetite for different ways of living focused on sharing and community.
So let's take a glance at three different shared living situations across the world…
Japan's Capsule Hotels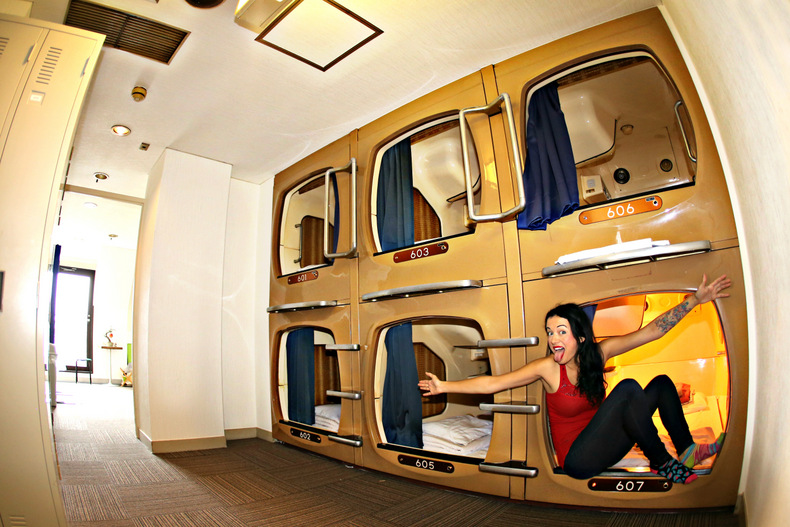 Photo credit: The Legendary Adventures of Anna (www.crazyintherain.com)
Designed to cater for Japanese businessmen needing a place to stay after boozy nights out entertaining clients or long nights in the office, Tokyo's Capsule Hotels are a quintessentially Japanese experience that have also become popular with tourists looking for a cheap place to lay their head (3,000-4,000 yen per night).
Capsule hotels often feature rows upon rows of extremely compact capsules for sleeping equipped with only the basics, in addition to communal lobbies, washrooms and toilets for all guests. It's an interesting response to the needs of Japan's 24/7 capital city and has sparked variations across Japan, and even the first capsule hotel opening in Reykjavik, Iceland.
Netherlands' Eco-Villages
Still in development, ReGen Villages in the Netherlands aims to create sustainable communities for the 21st century and its mission is to create intentional off-grid communities that can function on their own. This involves creating a system that produces its own power through solar and bio-gas, grows & farms its own food, harvests water and recycles. Homes are covered in greenhouses and the community trialling this pay £170,000 for the privilege in addition to around £435 for food & services.
It's an interesting foray into sustainable community living, which could prove to be a blueprint for living in the future, particularly as we continue to use up the earth's resources at an alarming rate to fuel the world's cities.
Copenhagen's Co-Housing
Is co-housing one of the reasons Copenhagen is the happiest city in the world?
Co-housing is built on the principle of private homes centred on a shared community space, which can include a shared kitchen, dining room, laundry facilities and outdoor space. Copenhagen was one the first cities in the world to truly adopt the idea of 'co-housing' in an attempt to tackle loneliness and isolation by creating a support network and sense of community around spaces.
These projects are littered across the capital (in fact across all Denmark, with 1% of all Danish people living in co-housing). It's a concept that has seen the benefits of making people happier and more connected, but it remains to be seen whether co-housing can truly scale to change the face of living.